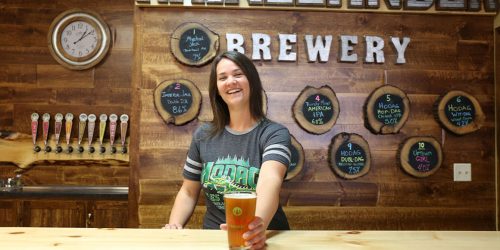 Rhinelander Brewery and Taproom Rhinelander Wisconsin
Your Rhinelander Winter Fun Guide
Here in the heart of Hodag Country, we welcome visitors all year long with tasty restaurants, interesting attractions and great recreation options—not to mention the one-and-only Hodag. Looking for some winter fun? Here are a few ideas on how to make the most of your Rhinelander getaway.
Warm up with a hearty meal
Rhinelander is home to some wonderful restaurants, from classic supper clubs to family-friendly diners and lunch spots. You're sure to find good food and good times here in Hodag Country.
Need a place to start? Here are some of the best spots for comfort food in Rhinelander. And here are some local favorites as selected by our fans.
Find fun attractions
A trip to Hodag Country can be fun for the whole family. Young ones can explore the interactive exhibits at the nearby Northwoods Children's Museum or take a kids art class at ArtStart, while older folks can sample some craft beers at downtowns Rhinelander Brewery Taproom & Gift Shop or bowl a few frames at Hodag Lanes.
See more local attractions here.
Go on a Hodag hunt
What's the point of visiting Hodag Country if you don't get to see an honest-to-goodness Hodag? And while spotting one of these legendary creatures in the wild is rare, its pretty easy to get a selfie—there are Hodag statues and murals scattered throughout Rhinelander. Check out our Hodag Finder to see all the spots you can stop at and snap a few pics with a less-elusive version of this beast.
And don't forget to sign up for the free Hodag Fan Club to get some sweet Hodag swag!
Discover a winter wonderland
If you want to get outside on your getaway to Hodag Country, there are plenty of ways to do so—we are in the heart of Wisconsin's Northwoods, after all. Silent-sports enthusiasts can explore miles upon miles of cross-country skiing and snowshoeing trails, and Hodag Country is also home to the Camp 10 Ski Area, which welcomes downhill skiers and snowboarders.
Hitch up your trailer—or rent a snowmobile here—and explore hundreds of miles of snowmobile trails that crisscross the Northwoods.
Join our list
Sign up for our e-newsletter for travel tips, trip ideas & more