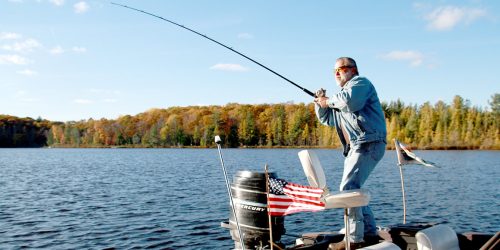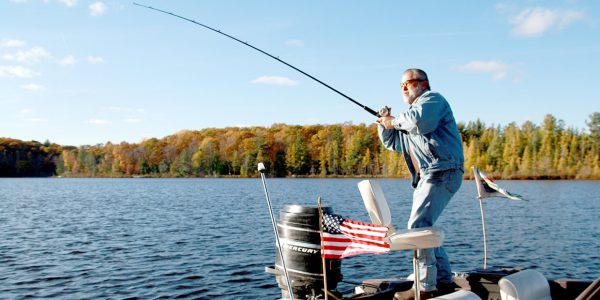 Fall fishing in Rhinelander Wisconsin
Your Guide to Fall Fishing in Rhinelander
Fall is a great time to come fishing in Hodag Country—the crowds are smaller, the fish are biting, and there are lots of great lakes to explore. Here's what you need to know to plan your fall fishing getaway to Rhinelander.
What do I need to go fishing in Rhinelander?
First, you'll need a fishing license (either a Wisconsin resident license or a non-resident one). Licenses can be purchased online or in person at outfitters, gas stations and other businesses. Learn more about costs, types of licenses and where to buy them here.
You'll also need gear and a boat (unless you're going to be fly fishing or casting from shore).
Where can I get gear or find a fishing boat?
If you need help getting on the water, you're in luck—Shoeder's RV & Marine in Rhinelander rents pontoon boats, fishing boats and powerboats. Many of Rhinelander's lodging properties also offer boat rentals or free use of their boats to guests.
How long is the fishing season?
Opening day for fishing season in Wisconsin is traditionally the first Saturday in May and runs through March of the following year, but depending on the species, you can fish for something 365 days a year in the state. Some specific fish species—like trout, large and smallmouth bass, and musky—may have different seasons, so check with the Wisconsin DNR for more details.
Fall is a great time to go fishing in Rhinelander because many species are fattening up for the winter and therefore more eager to go after an enticing lure or live bait.
What can I catch in Rhinelander? Where are some good fishing spots?
Rhinelander's lakes and waterways are filled with all kinds of fish—crappie, bluegill, smallmouth and largemouth bass, walleye, northern pike, and even the elusive musky.
One of the most popular lakes in the area (and one of the easiest to access) is Boom Lake, located just north of downtown Rhinelander. Boom Lake is actually an impoundment of the Wisconsin River, and Hodag Park—a large public park on the southeastern shore of the lake—is home to a boat launch, public pier, playfields, and walking trails.
Crescent Lake—which has a public boat landing right off U.S. Highway 8—is a popular fishing destination a short drive southwest of downtown Rhinelander. The 600-acre lake has a good population of musky, panfish and walleye.
Lake Thompson, located just east of Rhinelander, is a 400-acre lake that's home to a healthy amount of panfish. The lake can be accessed from a public boat ramp on North Shore Drive on the north side of the lake and there are several resorts located on the lake as well.
The Rhinelander Area is also home to several fishing guides, including Hendo's Angling and Gilbass Guide Service.
Where can I stay?
There are many great places to stay in Rhinelander, with lots of lakeside cabins, cottages and resorts providing easy access to the area's fertile fishing grounds. See a sortable list of lodging options here.
Learn more about fishing in Rhinelander here.
Join our list
Sign up for our e-newsletter for travel tips, trip ideas & more