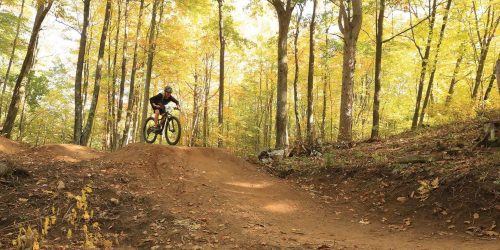 Mountain biking the Washburn Silent Sports Trails in Autumn
Late Fall – Prime Time for Mountain Biking
Get away from the crowds and discover some great late-season riding in the Rhinelander Area.
Experienced mountain bikers know that some of the best riding of the year is in late fall. With the leaves off the trees, the forest looks completely different. The trails are generally dry and in very good condition. And, with few other people out on the trail, you'll feel like you have the forest all to yourself.
The Rhinelander Area boasts some outstanding mountain biking trails. CAVOC Trails is one of the most challenging rides in the area, with lots of twists and turns and climbing.
The Mud Lake Trail has both single- and double-track trails waiting to challenge you.
The Washburn Lake County Trail presents riders with a whopping 15 miles of forest trails.
For a more leisurely ride, try the Newbold Town Trails, which are level and well packed.
During late fall, there might be some hunters out in the woods. As a safety precaution, it's a good idea to wear some blaze orange or other bright colors so that you're visible. (Take the same precaution if you're out hiking or birdwatching in the fall.)
Now, get out there before the cross-country skiing season begins!
Join our list
Sign up for our e-newsletter for travel tips, trip ideas & more