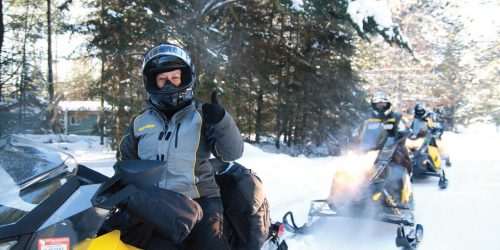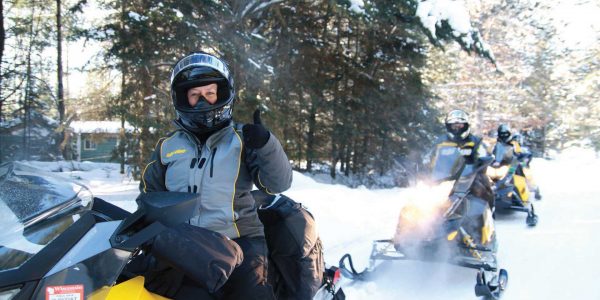 Snowmobiling in Rhinelander Wisconsin|
The Secret to a Great Snowmobile Ride
Here's a guide to help you plan your next snowmobiling adventure to Rhinelander
Rhinelander is the perfect place for a snowmobiling adventure. More than 1,000 miles of trails can be found in the Rhinelander area and these trails connect to thousands of miles of more riding on neighboring trail networks. The Rhinelander area is in an area of the Wisconsin that receives great snowfall and it has cool weather that keeps the snow around. Finally, Rhinelander has all the lodging and dining to complete a snowmobiling trip.
Here are a few tips for planning your snowmobile adventure in Hodag Country.
Make Rhinelander your hub
The trails around Rhinelander offer lots of great day-trip riding options. Destinations that are an easy ride from Rhinelander include Tomahawk, Lake Tomahawk, Minocqua, St. Germain, Eagle River, Three Lakes, Sugar Camp, Monico, Crandon, Pelican Lake and Antigo. There are lots of loops that will get you back to Rhinelander in time to relax for the evening.
Be informed
Its always a good idea to check the current trail conditions. You can find Rhinelander-area trail reports at snowtracks.com. Travelwisconsin.com also posts regular snow reports. The Hodag Sno-Trails publishes a detailed trail map that's key for trail navigation. You can get a paper copy locally and also see an electronic version online at hodagsnotrails.com.
Plan refueling stops
The secret to a great ride is to find some fantastic trails. Rhinelander has you covered there. The secret to a great time on the trails is to plan some stops to warm up, relax and recharge. Rhinelander has numerous trailside establishments that are popular with riders. Many offer specials this time of year. You can see the locations of establishments on the Hodag Sno-Trails Map.
Thank a groomer
Volunteers with the Hodag Sno-Trails work tirelessly to keep the trails in tip-top shape. They operate three pieces of grooming equipment, including a four-wheel-drive tractor (a Fendt model) and two tracked grooming vehicles (a Husky and a Pisten Bully). Spend some time on the trails and you may run into one of the Rhinelander-area trail bosses. Be sure to thank them and the rest of the volunteers with the Hodag Sno-Trails for their hard work creating such a wonderful trail system.