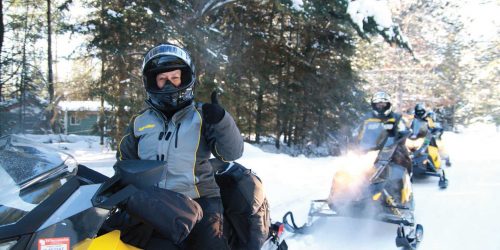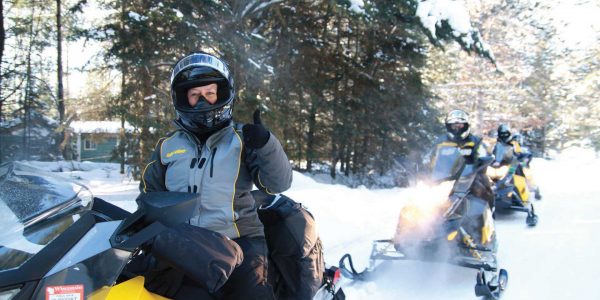 Snowmobiling in Rhinelander Wisconsin
Snowmobile Routes to Ride in Rhinelander
Rhinelander is a great home base for exploring the Northwoods, as you'll find outstanding places to stay and hundreds of miles of trails to explore.
There's still time for a snowmobile adventure in Hodag Country this winter. Rhinelander is a great home base for exploring the Northwoods, as you'll find outstanding places to stay for snowmobilers and hundreds of miles of snowmobile trails to explore. Here's a look at three routes you should try.
Before you head out, be sure to check our snow report page for the latest conditions. And check out the Oneida County snowmobiling map here.
Looking for a place to stay with easy access to the trails? Search our sortable lodging listings to find cabins, resorts, hotels & more perfect for your next snowmobiling getaway to Rhinelander.
Route 1: Rhinelander to Woodboro to Harshaw
This quick trip west of Rhinelander offers a lot of options to extend your ride south, west or north, so it's a great route to start your Northwoods snowmobile adventure. West of downtown Rhinelander, follow Trail #8, which cuts between County Highway K and U.S. Highway 8, and take that west past its two intersections with Trail #17. (If you want to ride to Tomahawk, follow Trail #17 south and ride 6 more miles; to the north, it goes all the way up into Minocqua and Woodruff.) Stay on Trail #8 and cut between Oneida Lake and Hancock Lake, then follow Trails 51C and 8A to Trail 51 in Harshaw. Head north, popping back out on Trail 51C and 49A (along Sand Lake Road and Fawn Lake Road) before meeting up with Trail #17 and Trail #12, which will take you through McNaughton and to the north side of Rhinelander.
Approximate distance: 50 miles
Route 2: Rhinelander to Pelican Lake to Elcho
Start this southeasterly route out of Rhinelander on U.S. Highway 8. Follow that southeast until you reach George Lake, then hop on Trail #15. Follow that south and west to the Oneida County-Langlade County border, riding along Lagoon Lane into Elcho. From downtown Elcho, head back north and traverse the southeastern edge of Pelican Lake, following Trail #13 north and west until you hit Trail #15 again. From there, you can connect with the trail along Highway 8 or continue exploring Rhinelander's eastern environs on Trail #15.
Approximate distance: 50 miles
Route 3: Rhinelander to Sugar Camp to St. Germain
This route will take you north and east from Rhinelander up toward the Oneida County-Vilas County border; if you're up for a longer ride head north to Eagle River or Sayner from St. Germain. North of downtown Rhinelander, hop on Trail #12 (west of Crystal Lake Road), which twists and turns its way east to the town of Sugar Camp. From there, get on Trail #15, which passes Lost Lake on its way north out of Sugar Camp and up toward St. Germain. Once you pass into St. Germain, you can easily hop across the county line to head to Eagle River or Sayner, but if you want to stay in Oneida County, follow Trail #15/70A/270 west to Trail #17/12, which will then take you back south through McNaughton and end up where you started north of Rhinelander.
Approximate distance: 65 miles