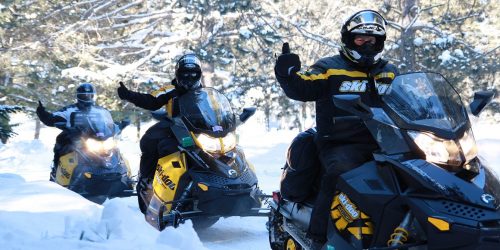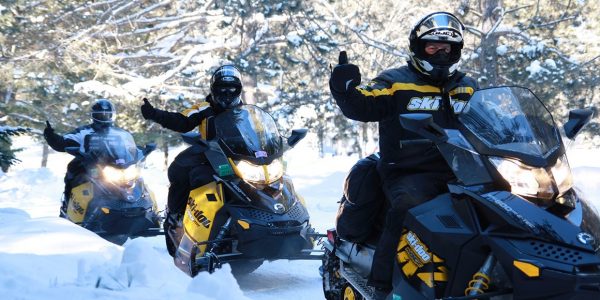 Oneida County and the Rhinelander Area are home to more than 1,000 miles of snowmobile trails
It's Almost Time to Gas Up Your Sled and Get Outdoors!
The Rhinelander Area is a perfect home base for your snowmobiling adventure, with easy access to thousands of miles of trails in the Northwoods.
Oneida County is home to more than 1,000 miles of snowmobile trails, and the Rhinelander Area is the perfect home base for your winter adventure. Stay at a cozy place right on the trails, spend the day exploring, then head back for a well-deserved meal from one of our tasty restaurants. Gas up the sled, because when the trails open, it's time to head to Rhinelander!
Finding a place to stay
Looking for a cozy spot to stay that's safe and clean is top of mind right now. Rhinelander's resorts, hotels and cabins are all working overtime to ensure your visit is a healthy one. A resort with individual cabins allows you more privacy and many are located right on the trails. Our hotels and motels are trailside too and offer ease and convenience for travelers looking to pack light. Wherever you choose to stay, you'll be close to convenience stores and gas stations so you can grab what you'll need and gas up your sled and go.
Find a list of places to stay here. Don't forget to check the latest snow conditions and trail reports here.
Trail adventures
The first thing you'll need before you head out on the trails is a map. You can download one here or pick up one when you're in town. Our local groomers, the good folks at the Hodag Sno Trails Club, do an incredible job keeping more than 140 miles of our trails in excellent condition. Give them a wave if you see them out riding!
We've got loops so there's no retracing your steps, adventures north into the 225,000-acre Northern Highland-American Legion State Forest, or connections into counties to the south if you're in the mood for a long-haul. Learn more about our trails here.
And remember, don't cross any water until the trails are marked as open.
Fuel up after a day on the trails
At the end of a day on the trails, you need a hearty meal and Rhinelander's restaurants are ready to oblige. Many are just a short jaunt from our resorts and hotels (some are even right on the trails) and you'll find plenty of carry-out options to enjoy in the privacy of your room or cabin, plus dine-in options too. From authentic Wisconsin supper clubs to pizza places, cafés and pubs, filling up your tank at the end of a long day is easy in Rhinelander.
Discover more about our restaurants here.