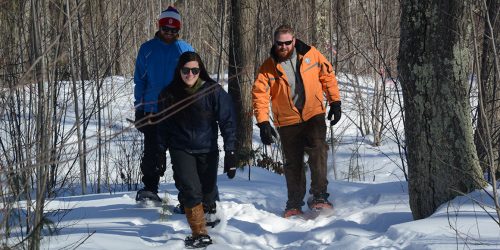 Winter recreation in Rhinelander
Get Active This Winter in Rhinelander
We've got lots to explore here in Hodag Country, whether you're a skier, snowshoer, or snowmobiler, so gear up and get going!
You know what winter in the Northwoods of Wisconsin means, right? Snow, snow and more snow—all just waiting for your next outdoor adventure. And we've got lots to explore here in Hodag Country, whether you're a skier, snowshoer or snowmobiler. So gear up and get going!
Cross-country skiing
There's nothing better than seeing Hodag Country covered in a layer of fresh snow. And one of the best ways to get out in the snow is by strapping on a pair of skis and gliding down a scenic cross-country ski trail. The Cassian County Two-Way Trail is a 15-mile route groomed for classic skiing that passes by three different lakes. Head to the Northwood Golf Course to explore the Northwoods Ski Trail, which offers 8 miles of beautiful skiing.
Snowshoeing
Want to blaze your own trail instead? Rhinelander has some worthwhile snowshoeing routes, too. Beginners can explore the short (2.25 miles) Almon Park Trail south of Rhinelander, which offers beginner and intermediate terrain and views of Buck Lake. For a little more challenging route, head west of Rhinelander to the Washburn Lake Trail, which boasts 15 miles of trails running through a hilly woodland setting. (Fatbiking is also allowed.)
Don't have your own skis or snowshoes? Mel's Trading Post in downtown Rhinelander provides half- or full-day cross-country and skate ski rentals and snowshoe rentals throughout the season.
Downhill skiing
Head to Camp 10 Ski Area, which has 15 runs for downhill skiers and snowboarders. Rentals are also available on site.
Snowmobiling
Rhinelander is a great home base for your Northwoods snowmobiling adventure, connecting to more than a thousand miles of trails in Oneida County. Hodag Country consistently sees good snowfall and low temperatures throughout the winter, a winning recipe for outstanding snowmobiling. Here's a good guide to snowmobiling in the Rhinelander Area.
After a long day of riding, skiing or snowshoeing, you'll need a place to warm up and refuel. Explore Hodag Country's tasty restaurants and book a cozy stay at the area's comfy lodges, resorts and hotels.