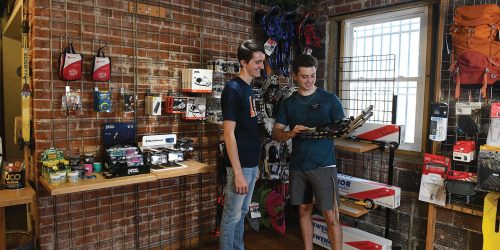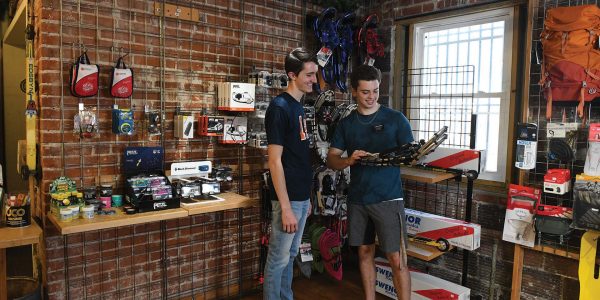 Shopping at Mel's Trading Post Rhinelander Wisconsin
Your Rhinelander Shopping Guide
Shoppers will find great selection and value anywhere they look in Rhinelander. Here are a few stores you shouldn't miss.
Looking for vacation supplies, Hodag merchandise or a whole new outfit? Shoppers will find abundant selection and great value anywhere they look in Rhinelander. Here are a few stores you shouldn't miss.
Prep for your Northwoods adventure
If you want to get out and explore during your trip to Rhinelander, you'll need the right supplies. First, head to Trig's in Rhinelander's to pick up your snacks and groceries (and don't miss the delicious offerings at Trig's Smokehouse). Then, visit Mel's Trading Post in downtown Rhinelander to find any outdoor gear you'll need, including apparel, footwear, packs and hunting gear. Mel's also rents bikes, kayaks, stand-up paddleboards, cross-country skis and snowshoes.
Find some sweet Hodag swag
Rhinelander is the home of the Hodag, so it only makes sense to pick up some Hodag gear when you're in town. The Hodag Store sells pretty much any kind of Hodag merchandise you could want, from bobbleheads and t-shirts to books and signs. (The store is closed from January-March but offers online ordering year-round.) Metro Screen Printing & Embroidery also sells lots of great Hodag apparel, from sweatshirts to pajamas. Looking for a Hodag treat? Find chocolate Hodags and, um, Hodag Poop (don't worry, they're just mint malted milk balls) at Fun Factory Sweet Shoppe.
Pick up a great gift
In addition to treating Rhinelander residents and visitors with great coffee, sweets and other drinks, The Briar House on Kemp Street in downtown Rhinelander sells home décor, gifts and fashionable clothing items for women.
See more Rhinelander stores here.
Join our list
Sign up for our e-newsletter for travel tips, trip ideas & more